Employee Relations & HR Compliance
Current Employees
Welcome to Employee Relations & HR Compliance
Employee Relations & HR Compliance is predominately an advisory office that provides guidance and counsel regarding employee matters involving the USPS, A&P, and OPS (non-faculty) employee populations. Employee matters may range from interpersonal conflict, coaching, performance, grievances, and discipline. We strive to create awareness and compliance with appropriate Collective Bargaining Agreements (AFSCME, PBA), University personnel regulations, University policies, as well as best business practices. We are committed in ensuring employees understand their rights and responsibilities as well as University resources that may be available to further assist.
Employee Resources Guide
We highly encourage employees to seek the assistance of their supervisory chain as their first resource in resolving workplace issues and to effect change. If this attempt does not resolve the situation satisfactorily, use the Employee Resources Guide to learn more about which university office will be your main point of contact depending on the issue to be addressed.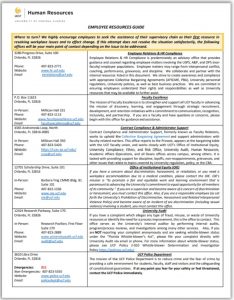 UNIVERSITY REGULATIONS and UNIVERSITY POLICIES
FREQUENTLY ASKED QUESTIONS
Can Employee Relations & HR Compliance attend a meeting between me and my supervisor and/or peer and serve as mediator?

No. This section does not offer mediation services.

Can you explain all the university resources available to assist with various concerns employees may have?

Yes. We have worked with our campus partners and developed an Employee Resources Guide. This guide is a one-page document that briefly describes the various university offices available to assist our employees.

If I reach out to Employee Relations & HR Compliance, is the conversation confidential?

Often, the conversations are confidential as the employee has concerns regarding interpersonal conflict, conflict with leadership, performance concerns, and or inquiries into other matters. Employee Relations & HR Compliance cannot guarantee confidentiality and have certain reporting requirements to the university (i.e., Theft).

Is it possible for Employee Relations & HR Compliance to reassign me elsewhere on campus?

No. This section does not hold such authority.

Is it possible for Employee Relations & HR Compliance to speak on my behalf to leadership or others at the university?

No. This section will provide guidance on addressing your concerns and frequently promotes the university's Open-Door policy for informal resolution. As such, the section encourages the employee to voice concerns directly to their supervisor, department/college leadership, and or an appropriate university office.

What if I have already voiced my concerns to local leadership and I believe nothing has been done at the local level?

You can certainly reach out to Employee Relations & HR Compliance to explore other possible options. Depending upon the nature of your concern, there may be a specific university resource or office that may be available to assist you.

What is HR Compliance?

HR Compliance has a connection to Employee Relations in their daily work in providing guidance that will ensure compliance with applicable employment laws, applicable university collective bargaining agreements, university personnel regulations and policies. In addition, this section works with the Human Resources leadership team to consider ways to improve compliance with various employment matters.

What is the predominant role of Employee Relations & HR Compliance?

The predominant role of this section is advisory and to provide employees with options to consider in resolving their concerns in accordance with appropriate university collective bargaining agreements (AFSCME, PBA), university regulations, university policies and best business practices. The overall purpose of the unit is to educate employees on their rights and responsibilities while mitigating risk to the university.

What sort of employee concerns can Employee Relations & HR Compliance provide guidance on?

Concerns related to performance, coaching, informal and formal grievances, discipline, and interpersonal conflict. If you are not sure your matter would fall under this section, please reach out as they are able to provide you with other university resources that may assist you in addressing your concerns.
Contact Employee Relations & HR Compliance

Michelle Brooks, PHR, SHRM-CP

Director, Employee Relations & HR Compliance

GET IN TOUCH