Financial Wellness Series
Benefits
The 2021 Financial Wellness Series will be held on select dates between April 1, 2021 and April 30, 2021.

Click here for a printable brochure, which includes the full schedule and description of the workshops.
Click here for a printable flyer.
Location
Due to COVID-19 and physical distancing guidelines, the 2021 Financial Wellness Series will be hosted and conducted entirely online.
Registration
The webinars are available for enrollment via myUCF (https://my.ucf.edu/).
To enroll in any of the Financial Wellness Series sessions (except CAPTRUST sessions), please complete the following steps:
1. Go to https://my.ucf.edu
2. On the myUCF menu, select Employee Self-Service
3. Select Learning and Development
4. Select Request Training Enrollment
5. Search by Course Number. This can be found in the Financial Wellness Series Brochure.
6. Follow the steps to complete the enrollment process.
7. You will receive an email confirmation from [email protected] once registration is complete.
CAPTRUST webinars have separate registration links found in the Financial Wellness Series Brochure and do not require enrollment through myUCF.
Live Cast
All sessions will be presented through Zoom, except for the CAPTRUST webinars which will be presented through GoToWebinar.
* If using for the first time, Zoom application may need to be installed.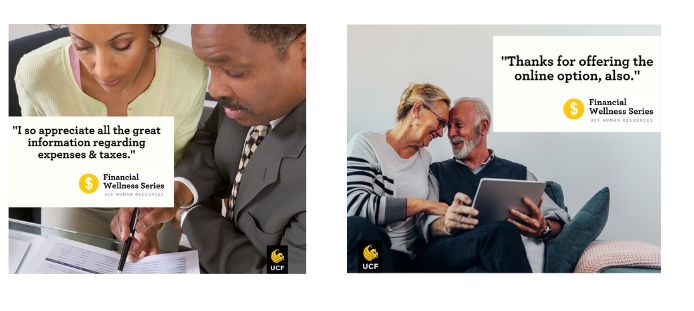 Materials
Electronic course materials will be added after each session. 
April 1 – Investing in Uncertain Times
April 5 – Income Tax Planning
April 6 – Nearing Retirement in the FRS
April 7 – Cash Management
April 8- Your Life in Retirement
April 12 – [email protected]
April 13 – A Woman's Guide to Financially Ever After
April 14 – Navigating Market Volatility
April 19 – Real Estate Market
April 20 – Retiring from UCF – FRS Pension Plan Members
**Presented by CAPTRUST and will have a separate registration link than other sessions
April 21 – Retiring from UCF – FRS Investment & SUSORP Plan Members
April 22 – Investing Basics
April 26 – Social Security & Medicare
April 27 – Retirement Healthcare Planning & Social Security**
April 28 – Retirement Income Strategies**
April 29 – Budgeting, Managing Credit and Debt & Saving for Emergencies**
On-Demand Webinars
There are several pre-recorded webinars available through the following resources, which can be viewed at any time during the month of April.
AIG
Get help on planning for your current and future needs. These webinars cover the many different aspects of financial planning, including cash management, investment planning, risk management and retirement planning. To view upcoming and on-demand webinars use the following link https://ucf.aigrs.com/mc/webinars.
Deferred Compensation (457 Accounts)
UCF offers multiple voluntary savings plans to assist you in planning for your retirement. One way to meet long-term financial goals is to participate in a tax-deferred 457(b) plan. Click here to learn more about this deferred compensation plan.
Fidelity
Learn from financial experts on how to establish your financial foundation, save for a rainy day, manage your debt, and control your spending. See on-demand and upcoming live webinars here. Registration may be required.
Florida Retirement System (FRS)
The FRS offers several webinars on various topics. You can view upcoming webinars on the FRS Calendar.
State Group Insurance Benefits
As a public university, UCF participates in the State of Florida Group Insurance Program. To learn about the benefit plans available please visit the State Group Insurance YouTube page.
TIAA
Hear from TIAA financial leaders who explore a broad range of topics that directly impact your financial planning. Registration may be required to access the webinars through TIAA.org/webinars.
Other Ways to Save
Abenity
UCF employees receive discounts from an elite collection of local and national hotels, car rentals, florists, theme parks, national attractions, movie theaters, restaurants, retailers, concerts & more through Abenity. Discounts are online, over the phone, in-store or through printable and mobile coupons. Visit https://ucf.abenity.com for more information.
HealthAdvocate
The Employee Assistance Program (EAP) is a university-funded benefit that offers multiple benefits, including financial resources. It is free to all employees (excluding OPS student employees) as well as their eligible family members, including spouses, dependent children, parents, and parents-in-law. Through the EAP, employees have access to estate planning and paying for college webinars; car loan, mortgage, and debt relief calculators; budgeting, wills, and tax forms; and telephone consultations with financial and legal specialists. For more information, call 877-240-6863 or visit https://hr.ucf.edu/employeediscountsassistance/.
Public Service Loan Forgiveness Program
If you are employed by a government or not-for-profit organization such as UCF, you may be able to receive loan forgiveness under the Public Service Loan Forgiveness (PSLF) Program administered through the U.S. Department of Education. Visit https://hr.ucf.edu/public-service-loan-forgiveness-program/ for additional information.
SGA Ticket Center
The SGA Ticket Center offers specially priced tickets to various local theme parks, attractions, movie theaters, and transportation providers. Tickets are intended for use only by UCF students, staff, and faculty. For additional information, visit https://ticketcenter.sdes.ucf.edu/.
Technology Product Center
The Technology Product Center (TPC) offers various academic discounts on hardware and software. For additional information, visit UCF Technology Product Center or call 407-823-5603.
Tuition Waiver Program
The University offers tuition assistance to eligible employees in the form of tuition waivers, good for up to six credit hours of coursework per semester. Eligible employees include A&P, Executive Service, USPS and Faculty, and courses are restricted to those taken at UCF. Contact the UCF Student Accounts department (407-823-2433) or visit https://hr.ucf.edu/current-employees/tuition-waiver-program/ for additional information.