Wendy McKnight – December 2020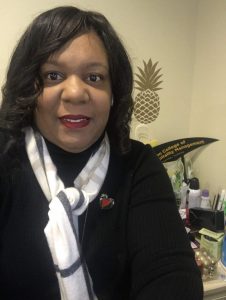 Please join UCF Human Resources in congratulating the USPS Employee of the Month (EOM) for December 2020: Wendy McKnight.
Wendy McKnight is an Administrative Assistant I in the Rosen College of Hospitality Management. Her nominators, Vanessa Gonzalez and Lori Safford, had this to say about her:
"Mrs. McKnight is incredibly deserving of this recognition as she consistently embodies UCF's vision, mission, and values. In her 16 consecutive years with the UCF Rosen College of Hospitality Management, she has shown time and time again her commitment to supporting the student body and furthering the mission and growth of the institution. Many years ago, she proudly created the first Culture Diversity Luncheon at the Rosen College, something that was very well received and appreciated by all involved. This is one example of how she actively creates and promotes new initiatives that align with the university's values.
Ms. McKnight lives up to UCF's highest ideals and continues to initiate efforts to support the wellbeing of our students. For example: after the campus closed due to covid-19, Ms. McKnight continued to meet with students facing hardships and layoffs within the industry to provide food and personal care items. To ensure the pantry remains stocked, she continuously creates outreach initiatives to gain support. Her call for support was answered with a generous donation of $10,000 to provide a refrigerator for the Rosen College pantry which will create the opportunity for additional dietary options for our students in need."
As USPS Employee of the Month, Wendy receives a $200 cash award, $25 from UCF Business Services and UCF Bookstore, and a goody bag. She is now eligible for the USPS Employee of the Year $2,500 award, announced at the UCF Knight Star Awards.
The University of Central Florida USPS Employee of the Month and Year Awards recognize exceptional performance of currently employed USPS staff. We welcome your nomination and assistance in recognizing exceptional university employees. To see eligibility criteria or to nominate someone, click here.