Samuel Waters – January 2021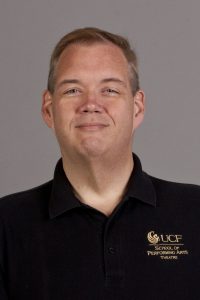 Please join UCF Human Resources in congratulating the newest USPS Employee of the Month (EOM) for January 2021: Samuel Waters.
Samuel Waters is the Administrative Assistant I in the School of Performing Arts. His nominators, Michael Wainstein and Arlene Flores, had this to say about him:
"He is committed 100%. He believes in the mission and values of UCF. This year has been really tough for everyone at UCF, and Sam's total commitment to the theatre department has been a critical part of our success in navigating these rough waters. Especially the way he has reached out to students and managed the student population in our school. He has a very positive attitude and always steps up.

When Sam is not in the office, we go crazy. He is the one who knows everything that you would need to know about the Theatre program and always willing to go the extra mile to help the faculty, staff, and students. When the undergraduate advisor needs any assistance, Sam is always willing to help in anyway necessary."
As USPS Employee of the Month, Samuel receives a $200 cash award, $25 from UCF Business Services and UCF Bookstore, and a goody bag. He is now eligible for the USPS Employee of the Year $2,500 award, announced at the UCF Knight Star Awards.
The University of Central Florida USPS Employee of the Month and Year Awards recognize exceptional performance of currently employed USPS staff. We welcome your nomination and assistance in recognizing exceptional university employees. To see eligibility criteria or to nominate someone, click here.