Richard Colón – November 2020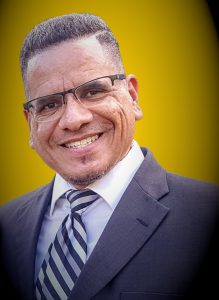 Please join UCF Human Resources in congratulating the USPS Employee of the Month (EOM) for November 2020: Richard Colón.

Richard Colón is a Financial Aid Specialist in the office of Student Financial Assistance. His nominators, Mitzy Gonzalez and Cyndia Morales Muñiz, had this to say about him:
"We are experiencing a time in history like no other. During stressful times, employees can either leverage the stress and find balance through their connection to the purpose of their work or become overwhelmed and feel stuck. Ric is so deeply connected to the purpose of his work that despite high levels of stress, has remained committed to intentionally showing up with kindness and humility for students and families. Ric has been an integral member of the UCF community for over a decade and his colleagues and the university community have always been able to count on him. He is reliable, a team player, and a source of calm during tumultuous times.
Ric shows up, puts in the time and the work in support of our students. He did this back in 2017-18 when UCF welcomed 250 students from Puerto Rico after Hurricane Maria and he's doing it now in the face of the COVID pandemic. He embodies all the tenants of the UCF Creed and is always willing to roll up his sleeves to support the UCF familia. His commitment to UCF is clear and admirable and we are fortunate to have him as a member of the UCF team."
As USPS Employee of the Month, Richard receives a $200 cash award, $25 from UCF Business Services and UCF Bookstore, and a goody bag. He is now eligible for the USPS Employee of the Year $2,500 award, announced at the UCF Knight Star Awards.
The University of Central Florida USPS Employee of the Month and Year Awards recognize exceptional performance of currently employed USPS staff. We welcome your nomination and assistance in recognizing exceptional university employees. To see eligibility criteria or to nominate someone, click here.