Nikitta Campbell – May 2021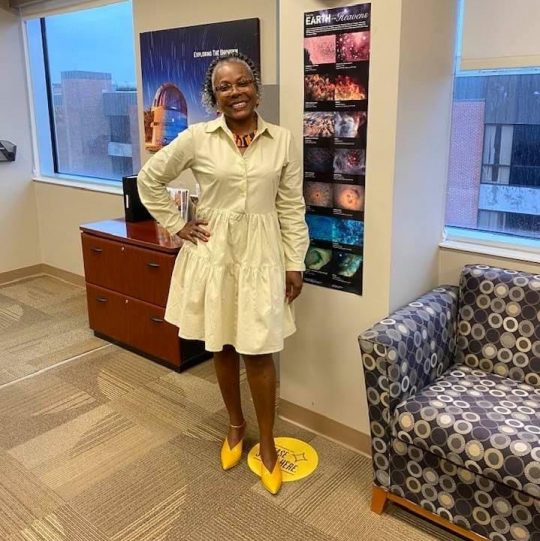 Please join UCF Human Resources in congratulating the newest USPS Employee of the Month (EOM) for May 2021: Nikitta Campbell.
Nikitta Campbell is an Administrative Assistant II in the Physics Department. Her nominators, Eduardo Mucciolo and Jessica Brooks, had this to say about her:
"Since joining the department about three years ago, she completely changed (for the better) how we operate. Not only she engaged with and transformed several aspects of the department's administrative operation, but also did so with enough empathy and consideration to others that the overall environment has improved significantly. You may have noticed that the Department of Physics is constantly featured in the UCF News postings recently, and this is primarily driven by Ms. Campbell chasing and helping produce stories that recognize the success of our students and faculty.
UCF and Physics is lucky to have Nikitta. She consistently goes above and beyond to help anyone in the Department, whether it be the Chair, faculty, staff, or student. Her enthusiasm does not wane, and she puts forth 110% on anything she undertakes. She manages the Department with respect and diplomacy and has the best interest of everyone in the Department at heart. She shows grit and determination, but also kindness and integrity when working through a problem. She is a ray of light each day and a true pleasure to work alongside with."
As USPS Employee of the Month, Nikitta receives a $200 cash award, $25 from UCF Business Services and UCF Bookstore, and a goody bag. She is now eligible for the USPS Employee of the Year $2,500 award, announced at the UCF Knight Star Awards.
The University of Central Florida USPS Employee of the Month and Year Awards recognize exceptional performance of currently employed USPS staff. We welcome your nomination and assistance in recognizing exceptional university employees. To see eligibility criteria or to nominate someone, click here.