Gloria Palacio – April 2021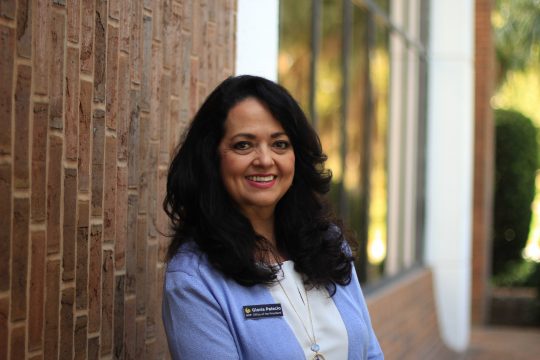 Please join UCF Human Resources in congratulating the newest USPS Employee of the Month (EOM) for April 2021: Gloria Palacio.
Gloria Palacio is an Administrative Assistant II in the Office of the President. Her nominators, Heather Simeon and Lindsey La Chiana, had this to say about her:
"Gloria's cheerful and helpful personality are an immense asset not only to our office but to the entire university. She is extremely dedicated to helping others. She is the epitome of what we want our guests to experience when they call or visit the Office of the President and/or the University for that matter.
This past year has been especially challenging due to managing constant changes surrounding the pandemic and the social and political climate. We have had an inordinate number of calls and emails to our office with questions about remote learning, new COVID protocols, housing assistance, financial aid, social justice issues, and many other topics that our constituents need assistance with or someone to listen to their concerns. We have received several compliments about how Gloria has delicately handled these situations that are highly frustrating, emotional, and greatly impacting the lives of our internal and external community. When people call our office, they are always relieved to have Gloria assist them."
As USPS Employee of the Month, Gloria receives a $200 cash award, $25 from UCF Business Services and UCF Bookstore, and a goody bag. She is now eligible for the USPS Employee of the Year $2,500 award, announced at the 2022 UCF Knight Star Awards.
The University of Central Florida USPS Employee of the Month and Year Awards recognize exceptional performance of currently employed USPS staff. We welcome your nomination and assistance in recognizing exceptional university employees. To see eligibility criteria or to nominate someone, click here.