Christopher Holt – July 2021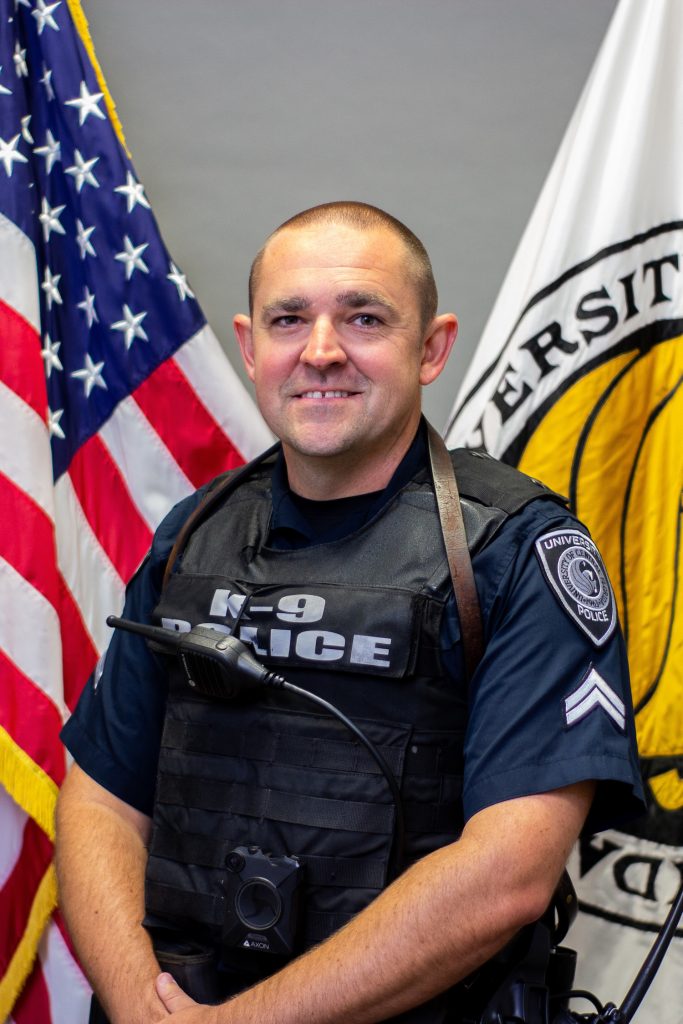 Please join UCF Human Resources in congratulating the USPS Employee of the Month (EOM) for July 2021: Christopher Holt.
Christopher Holt is a Sergeant for the UCF Police Department. His nominators, Commander James Mangan and Commander Pablo Vargas, had this to say about him:
"Sergeant Holt shows each day his commitment to both UCF and its students/faculty/staff. He is always the first to help and does his best each day to make an impact in the lives of those he serves. On 07/20/21, after the arrest of a dangerous impaired driver from an unrelated incident, Sgt. Holt observed suspicious activity occurring in a local business parking lot. He went over to investigate and found the male driver had locked a female in the bed of a pickup truck (this truck had a cargo cover that prevented her from getting out.) When Sgt. Holt made contact, he found a female who appeared to be intoxicated and hysterically crying. The driver was found to be intoxicated himself and arrested by UCFPD. As this occurred off campus, the other investigations were turned over to Orange County Sheriff's Office for other possible criminal charges.
The UCF Police Department believes in the recognition of our officers, their actions and outstanding efforts in service to the community. In keeping with our agency motto of "Doing the Right Thing" the UCF Police Department recognizes Sergeant Holt for his outstanding lifesaving efforts that occurred on July 20, 2021. Sergeant Holts quick response and recognition of the severity of the situation prevented a potentially tragic outcome. His commitment to the UCF Police Departments mission is an example of his Exemplary law enforcement service. Sergeant Holts actions reflect the highest standard of care for a law enforcement officer and bring great pride to the UCF Police Department."
As USPS Employee of the Month, Christopher receives a one-time $200 cash award, $25 from UCF Business Services, $25 from UCF Bookstore, and a goody bag. He is now eligible for the USPS Employee of the Year $2,500 award, announced at the UCF Knight Star Awards.
The University of Central Florida USPS Employee of the Month and Year Awards recognize exceptional performance of currently employed USPS staff. We welcome your nomination and assistance in recognizing exceptional university employees. To see eligibility criteria or to nominate someone, click here.