Knight Star Awards
Employee Recognition
Since 1972, the Knight Star Awards has been a treasured UCF event to honor our employees.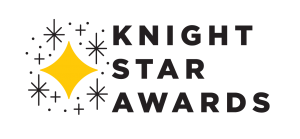 UCF benefits from a diverse faculty and staff who create a welcoming environment, a high quality of life, and opportunities to grow, learn and succeed. Every year, UCF Human Resources organizes a ceremony for faculty and staff to gather and recognize USPS and A&P employees who make the university such a great place to work.
At the Knight Star Awards, honorees include employees celebrating years of service milestones, retirees, and recipients of the USPS Employee of the Year Award and Gabor A&P Excellence Award. All honorees will receive a special gift from the university.
Please join us for an afternoon of celebration as we recognize our dedicated employees at the 2022 Knight Star Awards. The event will take place on Thursday, March 3, 2022 from 2:00 p.m. to 5:00 p.m. in the Pegasus Ballroom at the Student Union. A livestream will also be available on UCF YouTube. More details to come.
View Past Events
2021 | 2019 | 2018 | 2017 | 2016 
Frequently Asked Questions
Contact
Human Resources [email protected].