Annual Knight Star Awards
Since 1972, the Knight Star Awards has been a treasured UCF event to honor our employees.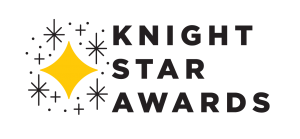 UCF benefits from a diverse faculty and staff who create a welcoming environment, a high quality of life, and opportunities to grow, learn and succeed. Every year, UCF Human Resources organizes a ceremony for faculty and staff to gather and recognize USPS and A&P employees who make the university such a great place to work.
At the Knight Star Awards, employees are honored for years of service milestones and various other special recognitions, including but not limited to the Gabor A&P Excellence Awards, USPS Employee of the Year award, Advocate Leadership award, and Prudential Productivity award. All honorees in attendance receive a special gift from the university, and we celebrate with family, coworkers and Knightro at a post-event reception.
The event is free and the entire UCF campus community is invited to attend and honor our employees. We hope to see you at the next Knight Star Awards!
View Past Events
2019 | 2018 | 2017 | 2016 | 2015 | 2014 | 2013 | 2012 | 2011 | 2010 | 2009 | 2008
Frequently Asked Questions
Contact
Human Resources Learning & Organizational Effectiveness hrlearning@ucf.edu