Annual Knight Star Awards
Join your UCF colleagues at the 47th Annual Knight Star Awards, Honoring our Employees.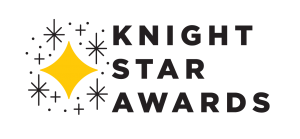 The free event will be held on September 25 at 2:30 p.m. in the Student Union Pegasus Ballroom.
We will announce the recipients of the USPS Employee of the Year and the Gabor A&P Excellence Award.
Employees who will be celebrating years of service milestones will also be recognized.
All honorees in attendance will receive a gift from UCF.
Invited guest speaker is Interim President Thad Seymour, Jr.
Complimentary event parking will be available in Parking Garages D and H.
View the 2019 Years of Service Honorees
2019 Knight Star Award Years of Service Employee Honorees
View Past Events
2018 | 2017 | 2016 | 2015 | 2014 | 2013 | 2012 | 2011 | 2010 | 2009 | 2008
Frequently Asked Questions
Photos from the 2018 program: